Principal's Message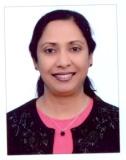 Mrs. Tabassum Farooqi (Principal)
It is with great pleasure that I welcome you to our website. We invite you to sit back and browse through our various links. Hopefully, you will find it interesting and informative. New Middle East International School has approximately 3500 students ranking from Nursery through A-Levels. Our school is located in Riyadh – Kingdom of Saudi Arabia.
As the principal of 'New MEIS', I have found my job challenging,invigorating, as well as rewarding. Our goal has always been to improve student productivity in all activities and I am certain that we will continue to achieve new heights and significant levels in student performance.
'New MEIS' is a school with international standards that provides Central Board of Secondary Education (CBSE) Curriculum to the students in grades UKG to 10th –. The curriculums provide a comprehensive educational program that gives all students an equal opportunity to excel and reach their full potential. These educational experiences will allow our students to become productive and contributing members of the society.
We, at 'New MEIS' aim to provide a quality educational program that is conductive to learning. Our collaborative task is to develop and implement an innovative curriculum designed to enhance student achievement, improve academic skills, our emphasis has always been on critical thinking and problem solving techniques in the acquisition of knowledge. The goal of the school is to be responsive to student needs by providing students with a repertoire of knowledge, which promotes academic, technical and social development, and prepares students for future educational endeavors and career opportunities. We will continue to aspire for excellence and refuse 'making peace with mediocrity'.
We are committed to enhancing the partnership with the school, home, student, and the community. Indeed, 'it takes a village to raise a child' and we must join hands in our pursuit of excellence at 'New MEIS'.